G-LO: Well, you did it again! A red-eye flight from LAX to JFK on Tuesday evening, an afternoon of eating and drinking in Midtown Manhattan on Wednesday afternoon followed by a 4 hour Kosher BBQ and whisky event in Battery Park at a little thing called Kiddushfest – World of Whisky, Brews, and Que, post-event whisky and cocktails at The Dead Rabbit, a MASSIVE slice of artichoke pizza in the West Village at 1AM, 2.5 hours of sleep, and then a 9AM flight from JFK to LAX on Thursday morning. What's your secret???
AK: We can sleep when we're dead. Or at work. The thrill of the whisky festival chase gets the adrenaline flowing. So we chase. And chase. And chase. Oh, and the thought of seeing you was a huge thrill. Zzzzzzzz…
G-LO: WAKE UP! No sleeping on the job!
AK: I'm awake now! Jeez! That was my good ear you were yelling into.
G-LO: And yes yes, whisky festivals always get the blood pumping. Though as we've said before, it's less about the actual whisky, and more about the opportunity to see friends. Whisky is THE excuse for all of us to get together. It's a catalyst for chrissakes!
AK: Oh, indeed, we're surely at the point these days in our whisky journey to admittedly care more about the people we see, the sights and sounds, and the food. Cask Strength GlenOak 12 "The Overly Ryed Series",  Single Barrel Old Whipper Snapper 18, and similar mean less now after realizing that all are overpriced, pretty horrible, and unnecessary. Whereas the friends we see at these events are none of those things.
G-LO: Whipper Snapper 18? I must have missed that one. I really should pack my reading glasses when I go to these things. I'm really glad you mentioned the food by the way! The NYC Jewbilee always took the food really seriously, so even though they've been mothballed for an undetermined length of time, I was very VERY pleased when we broke the news that their caterer, Ari White of The Wandering Que, was launching Kiddushfest to take its place. Mmmmmm….. BRISKET!
AK: Did someone say Brisket?  Mmmmmm…I so gloriously recall Jewbilee II that we attended at the West Side Jewish Center in Midtown Manhattan. The Center was packed with people. It was packed, hot, and sweaty. I didn't know anyone except from this thing called the internet. For all I knew, you were were a 5' 8" blonde bombshell in 8" stilettos and fishnet stockings. Boy, was I wrong! I was scared beyond the capacity for rational thought. But I was also overwhelmed by the smell of whisky and cholent. I felt like I was in my grandmother's house in Inglewood, CA. All the fear left my body as I waited in line for Ari's delectable offerings. My head basically exploded. Then my stomach. I might have the order wrong.
G-LO: Explosion is an ugly (and messy) word. How about if we describe your experience at the outstanding Jewbilee II as a food and whisky-gasm? Much more appealing, and a little naughty too. In a nice way. The tagline for Jewbilee II should have been, "Leaves you satisfied and yearning for more…".
While Kiddushfest was built around the same framework as the Jewbilees of Yore (that sounds like the name of a new BBC mini-series, no?), going from the West Side Jewish Center and Studio 450 (home of NYC Jewbilees III through VII) was quite a big change. We went from the hustle and bustle of Midtown Manhattan and the monolith that is Penn Station and Madison Square Garden to the just slightly less hustley and bustley area of Battery Park. In a way, we went back to the beginning, i.e. back to where the first settlements of what was once called New Amsterdam took place.
AK: Found this in my research (i.e. Wikipedia) on the origins of Battery Park as a public space in the 1840s:
Proponents said that the park would serve three purposes: abetting good health, improving the behavior of the "disorderly classes", and showcasing the refinement of the city's elite.  
Well, my brand of public policy and civic benefit clearly believe that Kiddushfest is a great example of all three of those. Ok, maybe not the second one and the third one is kind of iffy but I'm sure we're in way better health after the event. Who doesn't feel better after a night of whisky and BRISKET?!
G-LO: While I can't speak for you and your delicate constitution, I can speak for my very robust, Sicilian constitution, and let me tell YOU, I felt fan-freaking-tastic after Kiddushfest! I am quite confident in saying that the heady mix of yummy vittles, bottomless pours of The Water of Life, and delightful company in a picturesque waterfront location left me feeling refreshed and ready to take on The Town. Ok, so maybe not the WHOLE town, but I was definitely ready for a couple cocktails and some late-night snacks. And speaking of yummy vittles, you spent quite a bit of time speaking with the orchestrator of said yumminess, i.e. Sir Ari White! What was that all about?
AK: First off, my constitution is as robust as anyone!
Narrator: It wasn't.
G-LO: Who was that???
Narrator: This was true. He was clueless.
G-LO: OK, that's just freaky. I'm feeling like the Priest in Season 2 of Fleabag right now whenever that 4th wall was broken!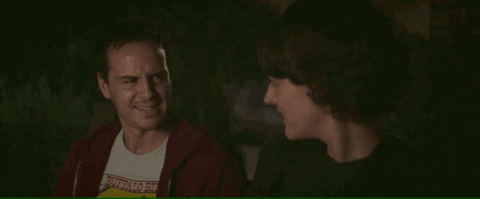 Narrator: But not as freaky as this blog.
AK: I'm forging ahead, pretending it's one of the many voices in my head. Where were we?
G-LO: Ari White and The Wandering Que.
AK: Sounds like a band I'd like to be in. Talking to Chef White about smoky heaven. He can get all bbq nerdy or meaty egalitarian with ease. I've been nerding out on The Gospels of Aaron (Franklin) and Steven (Raichlen) as of late, trying to change my life, and make the perfect brisket on my Weber Kettle. Talking to Ari is another step in the process. And from a whole different angle since he cooks Kosher meat. But let's not get too deep in the coals.
G-LO: You and your goddamn Brisket! I'm still holding out for an invite to the next West Coast Office Brisket & Whisky Fest. Bastard.
AK: First, it's G-d damn Brisket. Let's be respectful, you heathen. And second, my table always has a place for Elijah the Prophet, Scarlett Johansson, and you.
G-LO: I only heard bits and pieces of your Q-chat with Ari. While you two were talking, I was also listening to the Whisky Advocate peeps (Susannah and her Minions) discuss some stories that they were working on. I may be an eavesdropper, but I ain't no multitasker! Especially when it comes to listening to two conversations at the same time. Tell me more about this Que-chat with Ari.
AK: Oh, we chatted about pink butcher paper, Aaron Franklin, wood, smoke, bark, cooking for a large group.  You know, regular stuff. Probably the same stuff Ms. Skiver-Barton was going on about. You know how she is. She gets rolling on a topic and before you know it, you're in the North Carolina weeds lost amongst the sycamores and fist-sized bugs wondering where the nearest fillin' station is.
G-LO:  Please, don't even get me started on that Skiver-Barton woman. You know how it goes with those hyphenated last name people. Trouble with a capital "T"! Yes, I know that rhymes with "P", and that that "P" rhymes with pool. But this ain't River City, Pal! And we're not talking about starting a marching band for wayward youth. We're talking whisky and BBQ! And Madame of The Hyphenated Last Name most definitely knows her way around a North Carolina BBQ pit and a whisky distillery, so yes, we were most definitely in the weeds that night, but thankfully, the bugs weren't so bad, and they were nowhere near fist-sized. What the hell were we talking about again???
AK: There may be nothing scarier than a hungry Susannah Skiver-Barton (aka SSB or Super Sonic Barton for short) waiting in line for brisket. The stomping of sensible shoes was surprising, I must say. I expected the drooling since I was too and, to be factually correct, we were standing by the door to the kitchen with the wafting of barbecue coming our way. Who wouldn't drool? C'mon!
G-LO: Drool is such an ugly word. It's right up there (or right down there depending upon your perspective) with moist. I prefer to say that our mouths were watering, and that the brisket was juicy and delicious. You know, cause it really was!
All this talk about brisket is making me hungry. Again! Let's talk a bit about the whisky. Thoughts on the selections? Was there anything that really tickled your fancy? I mean, I certainly wasn't gonna tickle your fancy! There's a Mrs. West Coast Office for that bit of funny business.
AK: You're such a tease. Well, we knew that Ari's food would be A+ and it was! I might have had a couple of helpings of brisket. Only my tailor knows for sure. But we had no idea (at least I didn't) what the whisky offerings might be. Seeing Señor Joshua (née Jose) Hatton downstairs manning the IMPEX-JVS booth made us muy happy. Kilchoman, Port Askaig, Penderyn, and Single Cask Nation offerings!  Woohoo! There was one table that was confusing. Port Ellen, Laphroaig, old Macallan and more!!! Butttttt….that was for some kind of raffle that I didn't quite understand. There was also an odd table of some spirits from Gardena, CA(!). Now this intrigued me if only because Gardena is where this chap started out in life. Who knew the little bedroom community has a distillery? Or does it? We need to research.
G-LO: I am most definitely a tease. I'm the teasiest tease that ever teased. You know who isn't a tease? Señor Hatton! He's no tease. He aims to please. He brings the whisky AND delivers one hell of a hug! While he and IMPEX-JVS definitely delivered The Goods, I gotta say, there were some significant holes in the whisky selections when compared to the last Jewbilee we attended. Wassup with that, Bro?
AK: Upstairs at Battery Gardens… did we mention where we were for this shindig?… there were plenty of spirit tables. Well, about 20, I'd guess. Mostly names we knew but definitely some unfamiliar ones like the tequila table whose name escapes me. It was great to see Laws Whiskey House from Denver. I love their Rye. Señor Hatton turned me onto them at Jewbilee in Chicago-bang bang. And who doesn't love Compass Box? Corsair had a table too. But I was hoping for more Scotch names. My guess is that it's hard starting up a new festival and getting commitments from brands to attend.
G-LO: You're right! We did NOT mention the venue. Battery Gardens was the name. Battery Park is where it's at. While I definitely enjoyed what was on offer, I can't help but be a bit chagrined by what wasn't there, i.e. Ardbeg, Laphroaig, Glenmorangie, The Balvenie, Glenlivet, Glenfiddich, Lagavulin, Talisker, The Glenrothes, and many many more. I'm sure you're right about the difficulty in getting brands to sign up for a new event, especially in a hyper competitive markets like New York where they're constantly doing promotional work. I also think that part of the problem stems from the fact that whisky is HOTT (that's right, HOTT with two Ts!) right now, so well known brands probably get less impact from events like this. On the flipside, there's no shortage of new brands out there, so if you can't get the established brands, why not go for the up and comers? Speaking of up and comers, it was neat to see the Heaven's Door whiskies at the event. While what I tasted from them was pretty good, it's the artwork on the bottles that really blew me away. Me likey the pretty shiney packaging!
AK: I'm no Bob Dylan fan, but the artwork on his Heaven's Door bottles was pretty cool. And yes, H-O-T-T, Baby! That's what whisky is these days. And I've seen the lack of brands at shows here in LA too. It's depressing. I was at show and there was a winery with a booth. They were pouring a wine that had rested in a bourbon barrel. That might be stretching the product definition a wee bit. I think for Ari & Co. it will be an ongoing effort to bring in bigger names, and if anyone can do it, he can. I can't imagine the logistics of putting on this type of event and all the tentacles that need slaying.
G-LO: I'm sure it's a royal pain in the ass to get brands to sign up, and if anyone knows from royal pains in the ass, it's me. Mostly cause I am one. Kudos to Ari & Co. for fighting the good fight and making our NYC Whisky event in June dreams come true! There's definitely room for improvement with regards to the whisky selections, but I'd say he nailed it with the venue, venue location, and food. And with regards to the food, I know we talked up the brisket quite a bit (and deservedly so!), but I gotta admit, the Kosher fish dishes on the ground floor were nothing to sneeze at! Love the Salmon Pastrami, and a few of those herring dishes were quite delicious, especially the one with the Israeli spices. Molto molto buono!
AK: OMG!, as the kids say. The smoked salmon and herring from The Rebbe's Choice. Can I just roll around in that stuff for 7-10 days with crackers nearby? May G-d bless us all with this on our plates. Baruch HaShem. I believe you speak of the za'atar spices which are a must for the home or office. Ask for it by name. Accept no substitutes.
G-LO: You know what would be awesome? Getting Ari's perspective on this whole Kiddushfest thing which he is definitely turning into #AThing. Do you think two can-do guys such as ourselves can make that happen?
AK: Let me wave my magical barbecue tongs…POOF!
G-LO: Wait… Magic??? I thought magic died when Claudia Schiffer and David Copperfield broke up. Tell us more about these magical barbecue tongs of yours. Can they make a perfectly cooked smoked brisket appear at any time? You know, the kind with the perfectly burnt, burnt ends, bark, smoke ring, and juicy center. Can they also make pitchers of sweet tea and bottles of vintage Port Ellen appear? If so, work your magic, Mr. Blaine, and make that Wandering Que interview magically appear before our eyes! Are you an "Abracadabra" or a "Hocus Pocus" kinda conjurer? Or do you just let your hands and those tongs do the talking? You know, like a Marcel Marceau type. Friggin mimes.
AK: Jeez, I wanted Teller, and I get Penn. Chill, Houdini!  Wait for it…
Fade to wavy visual with eerie piano music…
We spoke to organizer and master barbecuer, Ari White, via e-mail on various topics including Kiddushfest, event planning, the Jewish side of whisky festivals, and barbecue!