The last time we tiki'd with you was way back in the frosty winter of 2018 when the pineapples were chilling and the orchids were hibernating. Yes, it gets a tad frosty in Redondo Beach, Bub. That was for Tiki 101 at Hudson House. A crash course in tiki with some hall-of-flame cocktails.
A lot has happened since then… 
We've gotten to know our own Tiki home much better in the Age of Coronavirus. Our hair has grown past our grass skirts, we have our own line of tiki-inspired masks (N95 filters not included), and we converted the Cal 20 sailboat in our backyard into a Bar & Grill as a home project. Come over sometime for a Mai Tai!
But way before we all started doing the Quarantiki Twist, Mrs. Satellite Engineer and I stepped up our tiki adventure ladder a few more rungs. Don't look up my grass skirt, you Cads and Cadettes!  The Missus is hell-bent on exploring the adventurous world of those tasty cocktails, and who am I to say "No!" to homemade cocktails? So last summer (hell, it could have been last week since we have zero idea how a calendar works anymore), we loaded up the truck and moved to San Diego for 3 days and 2 nights at Tiki Oasis in America's Finest City, per the local tourist board. America's Fish Taco Capital is just as good a moniker if you ask me, and would look equally nice on a plain white napkin which you'll need as you suck down three grilled mahi-mahi tacos with crunchy purple cabbage and a tangy chipotle lime crema para un camión de tacos. But I digress.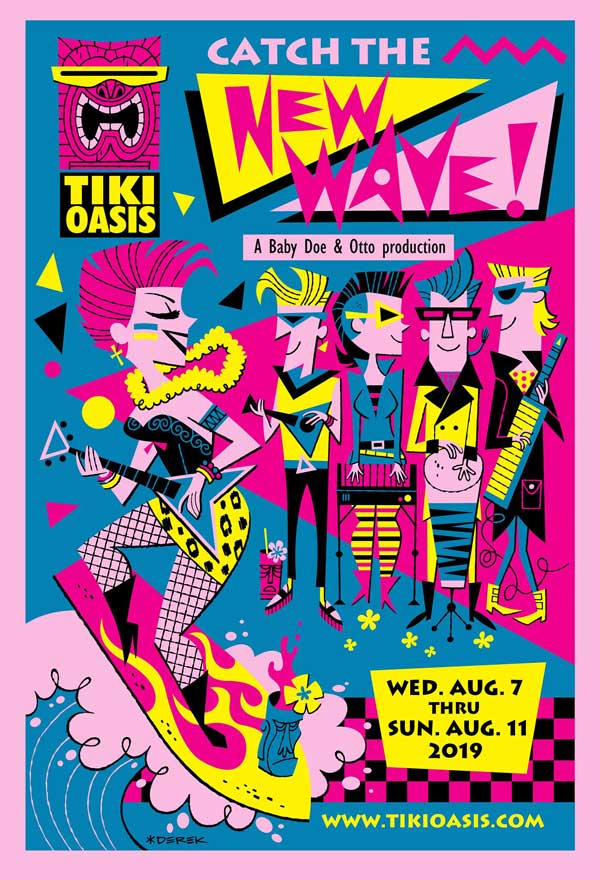 Tiki Oasis 19 (yes, there have been eighteen previous ones for those keeping score at home) is quite possibly the country's most famous tiki festival. I'm sure others will fight over the title, but tiki should bring souls together, not sprout fighting. No one likes to see sprouts fight. C'mon, People, there's plenty of space on the island! Let's hold hands and hum a few bars of Tiny Bubbles. Fighting aside, Tiki Oasis is one crazy 4 to 5-day experience. These noobie attendees were stunned by the sheer numbers descending on the Mission Valley Crown Plaza that seems made for the event with its coastal, tropical decor. 3,000+ attendees is the number we heard bandied about. That's a lot of Hawaiian skirts and shirts!
DAY 1
We stayed across Interstate 8 at another hotel only a three-minute drive away from the craziness. There are plenty of hotels along the I-8 corridor for all the San Diego tourists to choose from as they bop around from the world-famous zoo to SeaWorld to Mission Bay. We chose semi-wisely, as our hotel was teeming with many families and noisy tots surely off to the aforementioned hot spots.
We had no desire to see lions, tigers, whales, or surfers. We were here to see the laid back world of Tiki. Music, cocktails, shopping, seminars, oh, my! And more! We didn't know what "more" was but we were all for finding out. Walking into the Crown Plaza that Friday afternoon and seeing the crowd of tiki-ers of all ages was mind boggling. Throw in the explosion of colors from flowers, attire, tattoos, and decorations, and we knew we were in the right place.
The Tiki Oasis schedule is a complicated grid with activities starting when the sun is just waking up yet warm to the touch. We mapped out our day in light pencil and started with a quick recon mission of the island. It was almost too much to take in with live music at the pool and a scattering of vendor booths along the perimeter. Alcohol was definitely in the air along with sunscreen. Skin protection is almost as important as a well crafted jug o' mai-tai.
The Crowne Plaza's event center was home to our first seminar. Here was where the bulk of the vendors were selling their wares as well as registration to get our wristbands that "can't be taken off for all of Tiki Oasis", we were told pleasantly by the very friendly staff. You can buy virtually anything "Tiki" here.  I think I was witness to a guy buying an unmarked island 1,200 nautical miles due east of Tahiti. Or you can buy a $50 handmade mug or the $25 version made in China. You pick. It was a mall of tiki. Serious business for an un-serious event.
The Harbor Lagoon room in the Grand Hanalei event center was the spot for our first seminar: "Create a World of Tiki in Your Home Bar" with Pam Kueber, a retro renovation expert (hence, her website retrorenovation.com). Her talk was sponsored by Licor 43. A booze sponsored home remodeling seminar? Count us in! Ms. Kueber got the creative juices flowing with her pitch on how to approach a home build of a tiki bar or room. The packed room listened attentively to her 7-point plan of attack that would work just as well if you decided to renovate your boring 1960's bland tract home to a mid-18th century Middle Eastern palace style, or are just as excited to set up your autonomous nation-beach state under palm trees and keep below the radar:
What's the goal?
Get in touch with your (Tiki) style.

  (

Oh, yes, there are many.)
Plan the design considering the space.
Don't forget to design in lights, sound, electric, plumbing, etc.
Consider structural issues.
Install your "canvas", i.e., walls and ceilings.
Decorate to create intimacy
All this while learning to love the palette of "brown". And NO WHITE WALLS! Or a television. Ms. Kueber is tough!
She showed various before and after photos of home tiki renovations from across the country including her own in New England. The crowd ooh'd, ahh'd, and drank Licor 43. This tiki reporter may have poured-his-own Bowmore Dorus Mor from his backpack. Only Mrs. Satellite Engineer (aka Gidget) knows for sure.
We walked out thinking that our own family room is a waste of a space for television watching and keyboard tapping. The doggy door is critical though. Could this be our own tiki room and bar? Hmmm. Stay tuned.
After sushi and cocktails in one of the hotel bars, more exploring led us to a whole fascinating world of the "unofficial" Tiki Oasis.
The room towers of the Crown Plaza were a vast unknown world for us to explore, one that didn't seem to be mentioned much in all the Tiki Oasis literature. What's to explore? They're hotel rooms, right? Two words: hospitality suite. We saw "gig" flyers plastered on walls and pillars, bathroom mirrors and trash cans, elevator doors and elevator walls around the hotel, all for suite parties in the hotel towers. The parties were all sponsored by various producers of adult beverages. Are you seeing a theme? The daylight events were heavy on the cocktails and tastings. The nighttime ones were heavy on the cocktails, black lights, and music (more on this later). Our first stop was Room 1649 for booze tastings from SinShip Spirits Co. and 117° West Spirits, both local distilleries making rum. We were more than pleasantly surprised to find our dear old buddy Trent Tilton of San Diego Distillery helping his San Diego neighbors out by pouring their spirits. We would come across crazy Trent again pouring his own array in 1649 the next night. Mr. Tilton may well be the king of the San Diego distilling world with his hands-on creations. His bear hug greetings are always welcome and sure to put one into traction for 7-10 days.
Room 1649 was where we also met up with friends, Bartender Jessica Souza (of Hudson House) and Josh McLeod (founder of iconic electro analog band Fartbarf). We're envious of these two tiki pros who built their own outdoor home bar. Cocktail maven + creative graphics artist = The Hoodoo Hut; which is available for private parties and cocktails-to-go! Book your holiday party now! We drank and explored with these two nuts who could tell you real from not real and cool from not cool on the shopping trail.
The rest of the afternoon was spent roaming the aforementioned vendors in the Hanalei building. The rabbit hole of tiki shopping is far, wide, and very deep. Be very careful! All major credit cards are accepted. Plus ApplePay. As we said before, it's endless. Need an 8' hand carved teak surfboard? How about a framed poster from How to Stuff a Wild Bikini? Maybe a Hawaiian shirt? Maybe a thousand Hawaiian shirts? Or a konacopia of tiki mugs that would stretch from downtown San Diego to Bora Bora? It was the ultimate marketplace of all things South Pacific. From classy to kitschy. Must-have to what the hell is that? From "whoaaa!" to "ewww, my eyes are bleeding, make it stop!".
And the shopping fun continued around the pool.  Various ground level guest rooms just spitting (pre-COVID) distance from the pool were transformed into hospitality suites with vendors using them as mini outlets offering plenty of space for drinks too. Come on in, grab a drink, check out our tiki mugs, shirts, sculptures, and dresses. Try something on in on changing room/bathroom.  C'mon, you want to!  And our friends from various adult beverages companies had their own kiosks stationed around the pool as well. It's a veritable one-stop for all things tiki, including refreshments.
All the shopping and drinking with a tasty sushi lunch with cocktails in the hotel was just a lead up to the main stage. Literally.
MUSIC
Every year, Tiki Oasis has a theme. Just like you and me. Previous years' themes included International Espionage, Monster Island, and Beatnik-Tiki. This year was Catch the New Wave which was an homage to '80s New Wave and Punk music. Now you're talking our language!
Headliners included Orange County punk rock heroes, Agent Orange; Gerald Casale of Devo (now a noted Napa winemaker); Romeo Void's Debora Iyall; Josie Cotton; Tim Polecat of the Polecats; and The Fleshtones. If you were anywhere within the broadcast range of KROQ or KXLU back in those days in Southern California, you heard all of these bands. Under the lights in front of standing and dancing crowds, the 80's came alive. Maybe the throngs and thongs were just scared of the 20' tiki to the right of the stage breathing smoke. Who knows?
But of course Tiki oozes music all its own and doesn't need radio era music. Not a bit. Those exotic sounds from tiny islands with gentle breezes for background harmony or guitar heavy jangles are aplenty. And the other 20 or so bands took you from the beaches of Polynesian islands to the surf shacks of Hawaii.  
To name just a few of the artists on the big stage and the poolside overlook one: The Insect Surfers who Gidget and I saw 25 years ago in a Manhattan Beach bar; The Hula Girls; Judd Finkelstein (owner of Judd's Hill winery) & Tiny Bubbles; Drifting Sands; The Intoxicats; Jessica Von Rabbit; Joey and His Showmen; Los Tiki Phantoms; The Devil-Ettes; Tikitronic (who play an amazing version of "Bella Lugosi's Dead"); The Surfragettes; and The Tikiyaki Orchestra.  Plus, of course, El Vez, the Mexican Elvis, because, sure, why not?
Music, music, and more music.
The "more" music was later in those hospitality suites. As the sun settled down for the night into the Pacific horizon, the tunes ratcheted up – way up – in those suites. By day, these rooms were crazy but fun little parties for spirits companies to pour and chat up their offerings. Each room had some kind of theme. Ole Room 1649 was heavy on the fluorescent colors of those wild 80's.  
But once darkness descended, darkness truly descended.
The four-sided inside perimeter of the Crown Plaza tower is a long rectangular atrium with a serene stream and lush foliage on the ground floor. But above, the pathways of each floor were anything but serene at night. Long lines formed to get into each of the suites hosting parties. Doormen manned each party letting two partiers in as two partiers exited. The lines looked to be an hour or more long waits for free admission to…well, we had no idea what free got you exactly.
Black lights, strobe lights, no lights lit and unlit the hotel rooms that now had become mini concert venues with cocktail bars. Think about your last holiday trip at a hotel. Maybe it was a Crown Plaza a short drive from grandma's house. Maybe you had the kids with you. And the dog too because you smartly (for a change) picked a pet friendly hotel even though the cleaning deposit was $1,000.  Now imagine your pretty standard hotel room without any furniture, the windows covered completely with blackout curtains, the kitchen counter turned into a bar, the lights turned off aside from a strobe or two, and the wall – where the couch should be – has three guys dressed like Magnum P.I. except with masks playing surf versions of Danzig at a deafening volume or what sounds like Danzig if Danzig wore masks and were double parked so they had to play twice as fast so the van with the extra equipment wouldn't get towed like the last time at the Holiday Inn off I-5 in Encinitas. Oh, yeah… imagine there's a go-go dancer about 18" from the guitar player in a bikini in a "cage" showering beads of sweat on anyone in shower range (pre-COVID). The go-go dancer, not the guitar player, because him showering off beads of sweat would be gross.  Now that's a holiday trip, my friend. Call grandma, tell her one of the kids is vomiting so you'll come by tomorrow. With bagels. Don't tell her you were spritzed with go-go dancer flop perspiration while the Fink Bombs blew the f***ing door off the room. Yes, the Fink Bombs.
And that's just one example of what those hospitality suites turn into come nightfall. We went to about half a dozen them. It was horrible. NOT! One suite had two different cover bands playing surf versions of your favorite 80's hits. One of those bands had a Ramones look.  Another party had a whole Bowie thing going. The party never stopped and the lines seemingly never ended.
We made it back to our humble chain hotel in one piece with a only bit of ringing in the ears. A final whisky nightcap then bed because Day Two was only hours away.
Day 2
After we had a decent Crown Plaza continental breakfast (you can make your own waffles!), the Better Half was off to an 80's new wave make-up class. I passed on this – hot green eyeliner isn't my thing – and instead strolled the grounds and found myself on Author's Row in the events center. Authors and artists in the tiki world were set up behind tables selling books and chatting with the peoples. I was pleasantly shocked to find three superheroes there.  
Martin and Rebecca Cate of Smugglers Cove bar and book fame gladly autographed their tiki bible to my wife (our second copy) as we chatted about a little of this and a little of that including how hard it is to find purple Hawaiian shirts. And the table next to them was another HOF'er, the one and only, Jeff "Beachbum" Berry. I picked up the classic "Sippin' Safari" with the Man's autograph Sharpied on the front page. Next time in New Orleans, post-pandemic, his Latitude 29 will be a must-do. A cool cat if there ever was one, Jeff was happy to spend a few minutes talking cocktail stuff. This little visit with these elites of the tiki community speaks volume of this little corner of the world. All of its denizens are just the friendliest folks you'll ever find.  All everyone wants there is only a little piece of an exotic far-off place and to share it with someone else looking for the same.
The next seminar was "Riffs & Spiffs: How to Craft Your Own Cocktail" with Tiki Lindy, a cocktail pro and nerdy pharmacist which entertained the satellite engineer to no end. And it was sponsored by Pusser's Rum which entertained me to no end. Ms. Lindy walked and drank us through charts and spreadsheets on how to adapt, re-create, and make your tiki cocktails better. I feel like I need a refresher course in Excel though.
Our last "formal" event was a breezy rum tasting in a small event room. Various rum companies including Pussers, Clement, and Don Papa had booths and poured samples. Licor 43 made a cocktail with a popsicle, and even Monkey Shoulder whisky had a table. It was a nice event that gave us an air conditioned respite. With rum.
There were plenty more things to do and see over the weekend. A car show in the hotel parking lot with classic cars tikified. Food trucks. The Parade of Caftan adorned women through the parking lot. The midnight burlesque show… sorry, no kids allowed. But for the kids there was the Tiki Tween Party and the Tiki Tots Playroom. We got you covered, grommets.
Another afternoon and evening of frolicking – yes, we frolicked and no one cared – of shopping, music, eating and cocktailing, and we were bushed. There was more to do on Sunday morning but we chose to head north on a leisurely drive home, or as leisurely as I-5 can be from San Diego.
It really does seem so long ago. Many cocktails under the suspension bridge since then. Tiki Oasis Arizona was scheduled for a few weeks ago. But instead of being at a hotel In Scottsdale, it was held virtually on Instagram and a few other online spots. Not exactly what anyone planned on months ago.  
The beauty of Tiki Oasis is that it's anti-social distancing. It's a gathering of social closeness, meeting people, dancing, kibitzing, and doing what tiki folk do… have fun! Gidget and I planned to go to Tiki Oasis 20 this year in San Diego, again in August. But it's anybody's guess if it will be happen at Paradise Point in Mission Bay or in the comfort of our own home on a computer. COVID-19 has thrown Tiki Oasis-20 a 20' wall of water. But it, like the rest of us, will ride it out because on the other side are warm breeze, cool drinks, and a sunset right out of a movie. A tad corny? Maybe, but the tiki crowd is always smiling no matter the surf conditions or the storm on the horizon. Tiki Oasis is that happy place to look forward to better tropical days.