Way back in May of 2016, I posted a review of the Wyndridge Crafty Cider. I really liked that beverage, so when I noticed that Wyndridge Farms also made beer during a recent visit to my local Wegman's Wine and Spirits Shoppe, I picked up a bottle as part of a mixed six-pack. Would I really pass up the opportunity to try a Porter with a semi-hefty ABV that had chocolate and vanilla in its list of ingredients? In the words of Elastigirl…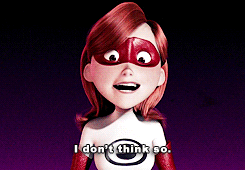 Before we get to my thoughts about this beer, here's what the folks at Wyndridge have to say about their Barn Dog Imperial Porter:
Come and get it, old sport! Wyndridge Farm Brewing brings you Barn Dog, a farm-crafted chocolate vanilla imperial porter. Barn Dog is a good-natured, hard-working porter for a refined palate. Crafted with Madagascar vanilla beans and Ghana cacao nibs, Barn Dog is a rich, dark smooth, and exceptionally delicious brew. One sip and this porter will have you drooling and wagging your tail.
7% ABV
Here what I thought of it…
The pour is as expected from a Porter. The color is deep, dark chocolate brown with some auburn highlights coming through when held up to the light. Tan foam tops off at about a quarter inch and then fades away rapidly. A thin bead of foam that clings to the outer edge is all that remains.
Chocolate and vanilla is most definitely there on the nose along with some mild coffee notes. A chocolate and vanilla frappuccino that went light on the cream and sugar is what this reminds me of.
That first sip is creamy and kinda fizzy at the same time. Sort of like an egg cream. For a Porter with the word Imperial written on the label, this beer is surprisingly mellow since no one flavor dominates the palate, i.e. there are hints of vanilla, chocolate, and coffee from start to finish, and there's little to no bitterness. Vanilla and chocolate linger a bit in the finish, but fades away pretty quickly.
If a mellow, easy drinking Porter is what you seek, then this is the beer for you. It's a nice beer overall, but it's not particularly memorable because it lacks the depth and intensity that I expect from an Imperial Porter. Perhaps some barrel aging or a nitro feed would up the curious factor.